Project events
Panel at the Royal Geographical Society Annual Conference 2013
The NNPS project recently organized a panel on "Reclaiming Resources? Assessing Latin America's emerging resource extraction strategies", which included both project members and invited presenters. The panel was sponsored by the Bulletin of Latin America Research. The aim of the session was to "bring together papers that assess Latin America's emerging resource extractive strategies from a variety of angles".
The NNPS project co-sponsors seminar in Chile
In cooperation with the research project "Globalization and Territorial Transformations" at the Pontif√≠cia Universidad Cat√≥lica de Chile, we sponsored a recent seminar in Santiago on "Local spaces, glocal processes". It took place at the UC campus in April, 2013. Project leader Arnt Fl√łysand presented findings from research on local effects of Norwegian investments in the aquaculture industry. Find more information about the event here¬†(in Spanish).
Professor Fl√łysand presents findings at conference in Chilo√©
The conference "Chilo√©: 30 years of transformations and challenges" took stock of the local transformations on the archipelago of Chilo√© in southern Chile, three decades after the aquaculture industry started developing there. ¬†During this time, it has changed from a traditional economy based on agriculture, into more urban and industry-centered society. This has brought both wealth and new challenges. The purpose of the conference was to present social research on these transformations to local audiences. The NNPS project has worked to analyse these transformations, and project leader Arnt Fl√łysand presented some of the findings. Find more information about the conference here (in Spanish).

Article on Chilean fish farming unions published in Political Geography
The article "Labor Agency and the importance of the national scale: Emergent aquaculture unionism in Chile" (Oseland et al. 2012. Political Geography, Vol. 31, 2), based on Stina Oseland's fieldwork on Chiloé as well as other project partners' long term engagment with the region, this article argues for "the continuing relevance of the national scale in understanding the geographies that shape and constrain labor agency" (abstract).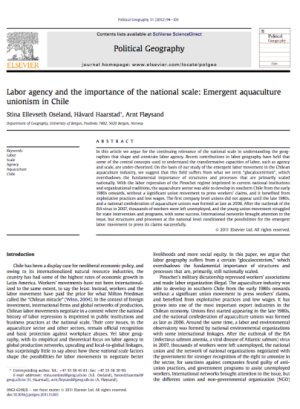 Highlights: 'ĖļIn this paper we suggest that labor geography suffers from a 'Äėglocalocentrism'Äô that overshadows the fundamental importance of structures and processes that are primarily nationally scaled. 'Ėļ The paper shows how structures and processes at the national scale are fundamental to understand the factors that condition and constrain the capacities of organized labor. 'Ėļ We use a case study of the emergent aquaculture sector union movement in Chile to substantiate our theoretical arguments, bringing a rare Global South case into the labor geography literature.
Our edited volume has been published by Palgrave Macmillan
In the fall of 2012, the book "New Political Spaces in Latin American Natural Resource Governance" came out. It has contributions from project researchers and our extended network.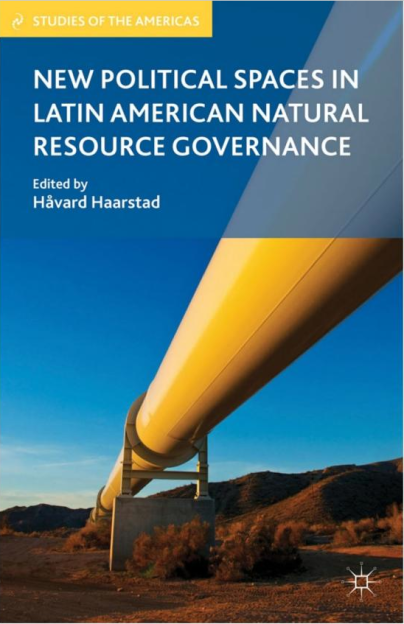 From the cover description: "This book takes a new look at an essential theme for Latin America's social and economic development: how natural resources are governed and struggled over. It questions the idea that the governance now can be characterized as "post-neoliberal" and illustrates the enduring constraints on democratic and "just" resource extraction. Case studies written by anthropologists, geographers, political scientists, and sociologists provide empirical detail and analytical insight into states' and communities' relations to natural resource sectors and show how resource dependencies continue to shape their political spaces."
Endorsements:
"A superb, genuinely interdisciplinary collection of essays underpinned by a committment to social justice, this book offers a set of rigorous, theoretically informed studies of governance within the vital natural resource sector in Latin America and makes a genuine contribution to debates about the Left and post-neoliberalism in the region. Very highly recommended indeed." – Jean Grugel, professor of International Development, University of Sheffield
"This book is a welcome addition to research on how social conflicts that arise from natural resource policies can be mitigated or avoided. With case studies from oil to post-neoliberalism, it provides an engaging and thought-provoking approach to the relationship between natural resources and socio-economic development in the region." – David J. Keeling, department head and professor o Geography, Western Kentucky University
The book's Amazon UK page can be found here.
Special issue on social movements in Globalizations
With Asuncion St.Clair and Mark Amen, H√•vard Haarstad has published a special issue of the journal Globalizations (Vol. 9, Issue 6, 2012). Project partners Jonathan Barton and √Ālvaro Roman contributed the article "Social movement strategies for¬†articulating claims for socio-ecological justice: glocal asymmetries in¬†the Chilean forestry sector" to the special issue.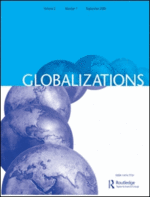 In conclusion, the editors note:¬†"The ability to network (i.e. horizontal relations with other social actors) across social sectors is a major success factor for social movements […] The benefits of rescaling (the ability to bring claims to 'Äėhigher'Äô arenas and institutions where power is wielded) for social movements include accessing the legitimacy, capacities and resources that like-minded organizations elsewhere might possess. Yet rescaling as a basis for collective action can perpetuate the democratic deficit, generate¬†organizational overreach, create coordination problems with grassroots bases, and supplant and replace locally based alliances."
Find the special issue here. Find a podcast where Håvard Haarstad discusses the special issue here.
Research report published: Participation processes in the Bolivian hydrocarbon sector
Håvard Haarstad and Cecilia Campero have published a report on the basis of their research on recent participation reforms in the Bolivian hydrocarbon sector. The report is published by the Center for Urban Ecology, in english and spanish. It is titled "Participation in the Bolivian hydrocarbons sector: The "double discourse" and limitations on participatory governance" (URBECO-report 3/11 and 4/11).
The reports are published here.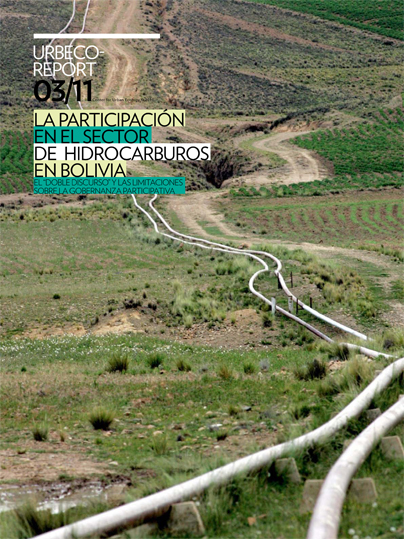 Bolivia is seen as one of the most advanced countries with regard to granting rights to participation and consultation in extractive projects. This report assesses the current process of participation in Bolivia by focusing on both the legal and institutional framework and on a particular participation process in Santa Cruz, looking at how this legal framework is implemented in practice.